DOOGIE WHITE

Another Year, Another Tear, Another Lesson Learned
Rainbow Fanclan Legacy Exclusive Interview




The year 2008 was a bit of a quiet year for Doogie White on first sight when we look back. Still he was involved in many new releases, did some surprising live gigs but also saw some big events getting the elbow at the last minute. We looked back but also forward to what could be expected in 2009 with the singer of the last Rainbow line-up.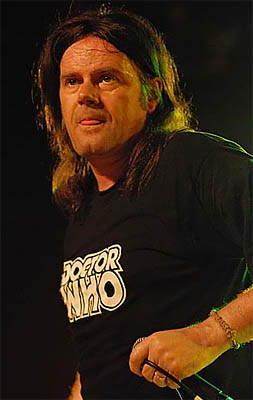 How did you got involved with TANK?

When Mr Goldy and I were asked to remove the songs we had written together for my solo album I needed to find replacements for them. Thats when Mick Tucker guitarist with TANK came into the picture. I have known him for years on and off and so we wrote some good songs rather quickly and painlessly. I had no idea he was in TANK.

It appears that over the last couple of years TANK had been offered tours and festivals but Algy Ward, original member, did not want to do it any more. I dont know his reasons. So Mick asked if I would step up and do the work with them.

I remember them from the early 80's when they had songs like "He fell in Love with a Stormtrooper" & "Heavy Artillery". I believe they were a trio then and did some gigs as support act for the bigger names then. Were you familiar already with them at that time?

Nope. In fact I only heard them last week for the first time. They gave me a box set of about 10 albums so I am slowly working my way through them. Its a metal beast. I want to stay somewhat faithful to their sound but adding my own personality and style to the music.

I think they splitted up sometime in the late 80's. Is this line-up a new start or where they already back together for some more time?

Well the original drummer is back and the 2 guitarists have been in the band since album 2, I think. But Algy was the main man. I think they were playing as recently as 2005. We just have to see what happens in the short term and that will determine any ongoing interest.

What are the plans for TANK? Studio Album and then touring?

We will see how it all pans out. Mick and I write well together but I need to understand TANK. It is important for the fans who have loved this band to understand that if Algy wanted to still play then I would not be here. If they want to hear TANK then they will have to adjust to the departure of Mr Ward the same way the guys in the band have to. It will still be big riffing guitars. I have wanted to do a metal album for ages so here goes.

What are the plans for Cornerstone in 2009? New Album? Tour?

I hope so.

There were talks about a tour for Empire. Any news on that?

Sadly that wont happen now.

How are the developments for your solo album?

I am in the last stages now. Neil Murray is doing some bass next week and Derek Sherinian some keyboards. Tony Carey said he would do me an intro for a song so thats cool also.

Which musicians will be part of it now?

On Drums Patrik Johannson and Thomas Broman
On Bass Greg Smith, Paul Logue and Neil Murray
On Keys Derek Sherinian and maybe Tony Carey
On Guitar, Pontus Norgren, Marcus Jidell, Phil Hilborne and Micky Tucker
On vocals Patti Russo and me.

If I understand well Craig Goldie will be no longer part of it but there are now plans to do a full other album with him. Right?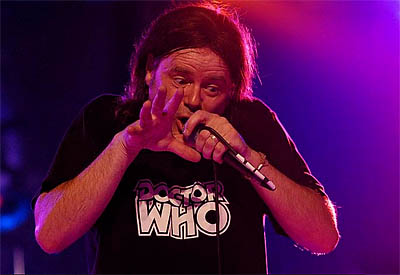 It is well under way but I dont wanna say too much about it at the moment.

You did an audition for Royal Hunt in the past and they turned you down. Still you ended up on their latest album last year. What can you tell about that?

I was in Copenhagen rehearsing for the last Cornerstone tour and Andre called me up and asked if I could come over and do some vocals, He still had not settled on a lead singer at the time. We talked for ages and listened through to several of the many audition tapes he had. Mark was by far the best. We spent 10 mins doing my parts and that was that.

Another singer on that album is the English singer Ian Parry. Do you know him and what do you think of him? (I ask this because I know the guy for some 25 years. He's a good friend of mine.)

Our paths have crossed over the years. He's very good.

You did some live performances with some Purple coverbands like for example Demon's Eye. How did these shows come about? I bet it's good fun to do these kinda shows?

Brilliant players I had a blast. they jam, improvise and love the music. We never even rehearsed. I trusted them and they trusted me. It was the most fun I have had with my clothes on. I think we may do it again. The songs are timeless and to work with such talented and enthusiastic musicians was a joy.

What is your opinion on all these Rainbow and Deep Purple coverbands anyway. Several fans in the forums are not too keen on them.

You dont like em dont go and see them...simple. I dont like pork so I dont eat it but I dont complain when other people do...

Talking about coverbands, how do you see Over The Rainbow with Joe Lynn Turner, Bobby Rondinelli, Tony Carey, Greg Smith and Ritchie's son Jurgen?

Why not?

Would you have liked to be part of this band?

I was asked originally by Tony and Bobby to be part of this. The idea went through many, many changes before it arrived at where it is now. Joe seems to be the catalist in all this. He is still very driven.

You did in December a solo gig in Greece. How was that? Any chance of more gigs like this one?

Another band of great players who pulled off a blinding show. Angelo the guitarist worked hard with the guys and we put together a show that covered a great deal of the work I have done over the years. During the sound check I started singing Gethsemane and the keyboard player joined in. He had played the part on stage in Athens... Weird!!! I would be glad to play that set list anywhere.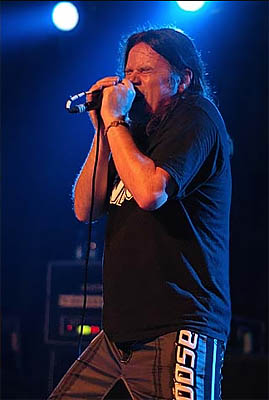 What can you tell about The Classic Rock Flashback Mystic Tour in the United States. The website tells it's now "On hold". Do you expect it will happen after all? Why did almost nobody knew overhere in Europe anything about it?

Flashback is dead and buried. If you see the name or they ask you to join up RUN for Gods sake RUN...... Its far too crazy to try and explain the madness that was going on. It was a strange way to spend a month. It was a good idea and the orchestra and band were good, the production was bigger than any I have ever seen, ever, but the whole thing was, for the scale and size, being run by a strangely distant person who thought "cottage industry" was the way to go, you know, get the family and friends involved and give them all work in the big arena, but as we know it never works. You must have professionals in the background as well as on the front line... Sadly like several other cases we know of, its the goose and the egg. We had Van Halens crew and pyro guys and gals, Floyds monitor team, Circus de Solice lighting company and jokers and chancers running the whole thing..... 86 people on the road... mental.. It crashed and burned after 8 shows with debts that you could not imagine. Of course having hurricanes and the venues being used as shelters did not help. Still, professionals would have known it was hurricane season and built the tour differently.

You did a brilliant version of "L.A Connection" on the new Iain Ashley Hersley's CD. He had Graham Bonnet singing some songs on his CD before this release. How did you get hooked up with Iain?

Thanks.. Iain contacted me and asked me to sing I said okay. I did not know he had worked with Graham.

You're going to do the English version of the new Ratablanca CD. Will it only be the record or can we expect also liveshows in Europe with you on vocals? I believe there are other plans to work with Walter Giardino for quite some time. Anything concrete in the mean time?

Cant say. its all a bit strange. I recorded the demos for this in June last year. I remain confused.

It looked on first sight like last year was a pretty quiet year for you if you only had an eye on the press but you were involved in so many things. You sang also on the new Alex Beyrodt and Eden's Curse CD's. Did I still miss something that was not mentioned in this interview?

2008 was the non year. The year of deception and liars, conmen and dare I say, crooks/gangsters. I am glad to see the back of it to be honest. I had so much work cancelled ranging from Yngwie at the start of the year through Flashback in the summer to Rata Blanca at the end. Not withstanding the promoters in a few countries who promised then failed to deliver. I learned rather a lot about the human condition and how people, small shallow people, weasel like people, who have no care for the consequences of their actions have on hard working musicians, behave. Another Year, Another Tear, Another Lesson Learned.

What happened between you and Yngwie?

Nothing really. I went to his London show and we hung out and had a laugh. JSS was there and Ripper also, so we all talked shite together. There are no issues between YJM and me personally, well certainly not on my part. I enjoyed the time we worked together, I knew how it was gonna be and what I signed up for in the beginning but that had not worked for me for quite a while. I had hoped that maybe it would change but it never did. If you stick a bunch of guys on a bus with the wife, the kid and the sister in law and send them out on the road for 3 months in that kind of confined environment then certain "issues" will raise their ugly heads.

What do you think of the new album he did?

When Yngwie called me to say he was changing to a direction of music that he did not think would work for me, more Maiden and Queen rather than Purple and Queen. I was very happy for him. But I have not heard the album so I cant say. I am sure its up to his usual standard.

It's been said that Ripper Owens is only doing this one album with him. Would you go back if he asks?

Yngwies tour manager, who is also his sister in law, did mention to me in London that Tim was in for one album and one tour only and would I come back later. But really that is so bizarre and disrespectful to "The Ripper" and I don't really think that the conditions I would require these days would be acceptable to his..... erm..... management.

Thanks for your time and answering the questions!!

And thank you.







© Rainbow Fanclan Legacy 2009