Bob Kulick
Skeletons in the Closet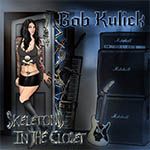 Tracks:

01. Rich Man
02. Not Before You
03. London
04. Goldfinger
05. Player
06. India
07. Skeletons In The Closet
08. Can't Stop The Rock
09. Guitar Commandos
10. Eyes Of A Stranger

Line up:

Guitar Bob Kulick - guitar
Bruce Kulick - guitar
Dee Snider - vocals
Robin McAuley - vocals
Andrew Freeman - vocals
Vick Wright - vocals
Todd Kerns - vocals
David Glen Eisley - vocals
Dennis St. James - vocals
Rudy Sarzo - bass
Chuck Wright - bass
Bobby Ferrari - bass
Bruce Kulick - bass
Dennis St James - bass
Kjell Benner - bass
Doug Katsaros - keyboards
Jimmy Waldo - keyboards
Vinny Appice - drums
Frankie Banali - drums
Eric Singer - drums
Brent Fitz - drums
Scot Coogan - drums
Chuck Burgi - drums
Bobby Rock - drums
Jay Schellen - drums

Record Label / Year of Release:

Vanity Music 2017

Notes:

Throughout his forty-year music career, Bob Kulick has worked with an astonishing array of artists: from Meat Loaf to Motorhead. From Kiss to Michael Bolton. WASP to Diana Ross as well as legends such as Roger Daltrey, Alice Cooper, Lou Reed and Paul Stanley's first solo album and tour.

After serving as a sideman and producer for much of his professional career, Kulick has decided that it was time to release a solo album ó and he brought along a few of his good friends to support him in the endeavor.

First five songs are new, The remaining five songs are earlier recordings; two from the self-titled Murdererís Row CD in 1996, two from the Skull CD, No Bones About It, in 1991, as well as one song that is previously unreleased.

The choices for tracks for the albumís latter half are impressive, but the surprising disappointments here are the lack of a Blackthorne track, as well as a Balance one. Balance featured some of Kulickís best melodic rock work, while Blackthorne was one of his heaviest, most driven bands, and featured killer vocals from Graham Bonnet.

"Skeletons In The Closet" has been released on September 15, 2017 through Vanity Music.