Deep Purple
Infinite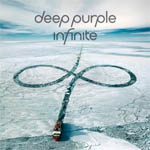 Tracks:

1. Time for bedlam
2. Hip boots
3. All Iíve got is you
4. One night in Vegas
5. Get me outta here
6. The surprising
7. Johnnyís band
8. On top of the world
9. Birds of prey
10. Roadhouse blues

Line up:

Ian Gillan - vocals
Steve Morse - guitar
Roger Glover - bass
Ian Paice - drums
Don Airey - keyboards

Record Label / Year of Release:

Ear Music 2017

Notes:

Deep Purpleís 20th studio album, InFinite, will be released on April 7, 2017. The albumís title, as well as the name of the upcoming Long Goodbye Tour, is part of speculation that Deep Purple are preparing to call it quits as they approach their 50th anniversary in 2018.

The album will be available as a standalone CD, limited edition CD+DVD, 2LP+DVD, "small" box set (1CD + 1DVD), and a "large" a.k.a. "fan" box set (2LPs, 3 10" singles, CD, DVD, t-shirt, poster, photo prints, and a sticker).