Alice Cooper
Paranormal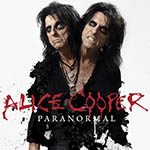 Tracks:

CD 1:

1. Paranormal
2. Dead Flies
3. Fireball
4. Paranoiac Personality
5. Fallen In Love
6. Dynamite Road
7. Private Public Breakdown
8. Holy Water
9. Rats
10. The Sound of A

CD 2:

11. Genuine American Girl
12. You And All Of Your Friends
13. No More Mr. Nice Guy
14. Under My Wheels
15. Billion Dollar Babies
16. Feed My Frankenstein
17. Only Women Bleed
18. School's Out

Line up:

Alice Cooper - vocals
Chuck Garric - bass
Ryan Roxie - guitar
Nita Strauss - guitar
Glen Sobel - drums

guest musicians:

Roger Glover - bass (track 1)
Billy Gibbons - guitar (track 5)
Larry Mullen - drums

Record Label / Year of Release:

Ear Music 2017

Notes:

Alice Cooper has announced his new album Paranormal, the Rock and Roll Hall of Fame singer's first studio album since 2011's Welcome 2 My Nightmare. The 10-track Paranormal, produced by Cooper's longtime collaborator Bob Ezrin, features guest musicians like ZZ Top guitarist Billy Gibbons, U2 drummer Larry Mullen and Deep Purple's Roger Glover.

Paranormal is also accompanied by a bonus disc featuring two new recordings the "King of Shock Rock" made with the original Alice Cooper band, "Genuine American Girl" and "You and All of Your Friends." Those two songs mark the first time Cooper and his former band mates recorded together since the Seventies. The bonus disc also includes six of Cooper's greatest hits recorded live with his new backing band at a May 2016 concert in Columbus, Ohio.

Roger Glover guest on the titletrack "Paranormal".