Steve Thomson
Everyone Loves A Winner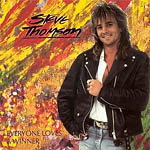 Tracks:

1. Walk Like A Man
2. Everyone Loves A Winner
3. Blazing Heart
4. All Through The Night
5. All That I Ask
6. Dream On
7. Hot Cherie
8. Give It Up
9. Time Will Tell
10. Take Me Back
11. I'll Take My Chances

Line up:

Steve Thomson - Vocals
Chris Egger - Keyboards
John Roggio - Lead, Rhythm, Acoustic Guitars
Greg Smith - Bass
Ricky Anthony Parent - Drums
Joey Balin - Acoustic Guitars On Tracks 3 & 10

Record Label / Year of Release:

Mercury/ Phonogram 1990

Notes:

A solo project from Swiss based artist Steve Thomson, the man's self-titled debut was recorded using some top US session names, including guitarist Tim Pierce and STEVIE SALAS.

Interestingly, a then unknown SHERYL CROW also appeared in a backing vocalist's capacity. Songwriting contributions came from JOURNEY's NEAL SCHON and JONATHON CAIN alongside MICHAEL BOLTON as well as THE BURNS SISTERS.

The 1991 follow up 'Everyone Loves A Winner' featured cover versions of CHINA's 'All Through The Night' and STREETHEART's 'Hot Cherie'.