Tonto Tonto
Mirror For The Blame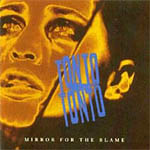 Tracks:

1. Mirror
2. Real Today
3. Last Night
4. Miles Away (Too Fast For You)
5. All the Love in the World
6. Changing Me
7. Approval
8. Home Is a Face You Know
9. Stop What You're Doing
10. Leave Behing
11. December
12. If It Rains All Day

Line up:

Nick Fowler - vocals
Gregg Wattenberg - guitar, backing vocals
Greg Smith - bass, backing vocals
Michael Haar - drums, percussion

Record Label / Year of Release:

Victory / Island 1992

Notes:

Through most of the songs, they build them up with an acoustic guitar, before Wattenberg's lead guitar cuts through like a hot knife on the solos. The opener 'Mirror' and the fantastic 'Last Night' are some good examples. Their first single 'Miles Away' tries to go for jugular, in much the same way that Extreme did 'More Than Words', though the execution is not as immediate. If you like the Riverdogs, then chances are, you'll love these guys.