Red Dawn
Never Say Surrender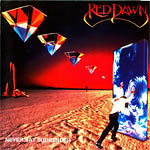 Tracks:

1 Flyin High
2 I'll Be There
3 Liar
4 Dangerous Child
5 Promises
6 I Can't Get Over You
7 Christine
8 Take These Chains
9 She's On Fire
10 Never Say Surrender

Line up:

Larry Baud - vocals
David Rosenthal - keyboards, background vocals
Tristan Avakian - guitar, background vocals
Chuck Burgi - drums, background vocals
Greg Smith - bass, background vocals
Liza Rose - background vocals on 8
Christina Dawn - background vocals on 8
Alice Knisley - background vocals on 8

Record Label / Year of Release:

EMI/Toshiba 1993

Notes:

David Rosenthal: "Throughout my career I always wanted to have my own band. I finally got the opportunity in 1992 when I signed a contract with EMI/Toshiba. Although I had been looking for a record deal for many years, when I finally got one, I no longer had a band! So I held auditions with a very select group of some of the most talented musicians I had ever worked with. We chose the name Red Dawn, and it turned out to be the best band I had ever played in! The entire project was a great musical experience and the release of this album was a personal milestone in my career.

The album was originally released in Japan on the Inside Out label (a division of EMI/Toshiba) in March, 1993. It was later released in the UK on the Now and Then label."