Roadway
Roadway E.P.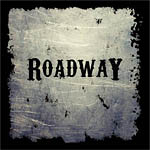 Tracks:

1. Fight For Freedom
2. This Is Why
3. Midnight Dance
4. A Farewell
5. Good.Man.Die


Line up:

Dougie Greig - Vocals
Ross McEwen - Lead Guitar
Iain Macleod - Bass
Ross 'Bod' Elder - Guitar
Frazer Mustard - Keys
Ryan McEwen - Drums

guest performances:

Doogie White - vocals (track 2)
John Sinclair - keyboards

Record Label / Year of Release:

Self Release 2011

Notes:

ROADWAY was born out of the simple desire to form a simple, hard rock band, which embodies all the best traits of all of the best classic rock heroes throughout the ages while still keeping and developing a modern rock sound. This idea became ROADWAY. Beginning as a 5 piece with Ross McEwen handling lead vocals as well as guitar duties the joining of lead vocalist Dougie Greig has really kicked the band into high gear. The self release of their debut EP in May of 2011 quickly began gaining the band credit all over the world with the CD quickly selling to 13 countries in its first 8 weeks.