John Steel and Doogie White
Everything or Nothing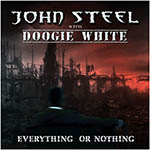 Tracks:

1. Intro
2. Creator
3. From Dusk Till Dawn
4. Forever and Always
5. Behind Closed Doors
6. Lost Messiah
7. One God
8. Spirit Lies
9. Wings of a Storm
10. Behold the Night
11. Emperor's New Clothes

Line up:

Doogie White - lead vocal
Ivan Stalev - guitar
Victor Georgiev - guitar
Ivan Popov - guitar
Petar Petrov - bass
Jivodar Dimitrov - drums

Record Label / Year of Release:

John Steel LTD 2017

Notes:

The band was formed in April 2007 by Ivan Stalev (gutar), Boyko Gochev (bass) and Jivodar Dimitrov (drums). The idea of the band has come from a single project called Ivan Stalev Guitar Show! Jivodar and Boyko decided to tell the idea to form a new project to Ivan and that was the begining of the new band.