Rainbow
Monsters of Rock - Castle Donington
Donington Raceway, Derbyshire U.K. - August 16th 1980
---
The Birth of Monsters Of Rock



In the history books of rock 1980 is a pivotal year, it was the crowning year for New Wave Of British Heavy Metal. Many classic records were unleashed during that period of time.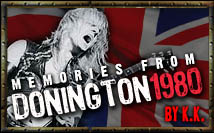 It was also the birth of Monsters Of Rock, the biggest heavy metal festival in the world.

By then there were no annual events of such kind, of course festivals had been organized since the days of Woodstock and during the 1970's there were few huge outdoor shows in the Isle Of Wight, Day On The Green in Oakland and California Jam. But those were one-offs, with less thought going into marketing, agenda and general commodity of the people. And most important of all, they were never strictly metal with always few acts from other genres to draw in maximum amount of people. In that sense, Donington was something completely unheard at the time. A huge risk.

So as the new decade dawned, Monsters Of Rock was originally created in the back of promoter Paul Loadsby's mind. The man had promoted the recent UK tour by Rainbow so they were a natural group to be asked to headline the event. Luckily Blackmore & co. agreed and Rainbow's example soon brought other bands into the bill as well.

The venue chosen for the event was the Castle Donington motor racing circuit in Leicestershire. Capable of holding up to 100,000 fans, it was near to the industrial Midlands and had an easy access to major transport links. Early preparations were delayed after objections from locals and police but the original timetable was held on to and event scheduled for Saturday, 16th of August 1980.

The rest of the bill meantime was assembled as a balanced mix of British and international hard rock. Judas Priest, who had just released their masterpiece "British Steel" were the frontrunners of the new age of heavy metal although they had been around for several years already. Scorpions were hailing from Germany, back then still a new territory as far as metal bands were concerned. Their latest album "Animal Magnetism" again had caused controversy with its cover rather than the brilliant music it contained.

Another NWOBHM act Saxon in the meantime were a new ambitious group with also an excellent record "Wheels Of Steel" behind them. April Wine were pioneers from Canada, their career had begun in 1969. This left Riot and Touch, both travelling overseas from the US. All in all it was a mighty impressive bill.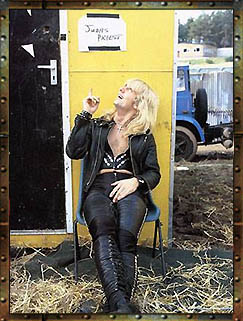 For the festival a quadraphonic sound system was installed to ensure maximum volume and sonic boost. The original idea for fireworks to be launched from the trees all over the area had to go as the shock wave literally knocked people down during the testing.

Parallel to a Judas Priest sound-check days before the event a test of Rainbow drummer Cozy Powell's pyrotechnics resulted in an explosion heard some three miles away blowing out all the P.A and causing £18,000 worth of damage to the stage set-up. The officers calmly asked effects to be toned down.

Ticket prices were £7.50 in advance. Though torrential rain over the preceding week had turned the site into a mud field, the day itself dawned bright, hot and sunny. The P.A. system only seemed to work well for those few thousand crammed down the front of the stage but, minor criticisms apart, the occasion was deemed an overwhelming success. The organizers actually lost money on the day but artistically and from a fan point of view the event was so successful it opened a possibility to continue tradition next year.

The most funny event during the festival happened when a bass player of Touch swallowed a bee while performing onstage. The bee stung him in the throat and poor fellow had to be rushed to emergency room. To bassist's amusement, Touch's manager Bruce Payne announced to worried media crammed outside the van: "It was a touch and go but the doc says the bee will pull through."

Apparently all performances from the day were recorded. An LP and cassette was released consisting of two songs each from Rainbow and Scorpions and one from each of the other acts, except Judas Priest. Bootlegs of the show remain in the circulation. The Rainbow performance was filmed and shown on UK television in 1980-81 but has never been repeated or released on video/DVD. Rainbow performed "Will You Love Me Tomorrow" the Carol King/Shirelles song (intended to be their next single) live, though it was never released. Donington show was Cozy Powell's last with the band and vocalist Graham Bonnet also left soon afterwards leading to Rainbow unveiling a new line-up early next year.

Paul Loadsby remembers the event: "It was a great day, the show Rainbow put on is still one of the best headlining performances at Donny...the first of its kind and a terrible risk." It is now amazing to think, Monsters Of Rock was put together in mere three months.

Later on Monsters Of Rock was immortalised in Saxon's song "And The Bands Played On" (Denim & Leather 1981). Donington went on to become an institution and Monsters Of Rock was the biggest heavy metal festival in the world during the 1980's and well into 1990's. Overall attendance at the first festival in 1980 was 35,000. This was furthermore increased year after a year before safety restrictions were ordered in 1989 following two deaths during the Guns'n'Roses show in 1988 – by this point audience figures were topping 107 000. The limit had been reached. In 1990 the revamped event only allowed 72 000 people in and this enabled them to continue for few more years.

Festival was last held in 1996, nowadays Download Festival is organized at the same grounds.

While Monsters Of Rock returned last year at Milton Keynes, the right venue for it has always been Donington Park. There even during the silent months without motor races or metal festivals taking place the echoes of the music can still be heard and felt, and one can still vision the sounds and scopes of the immortals when "the bands played on."

Ville Krannila - KK Downing.net










Monsters of Rock - Castle Donington

Blog: Donington 1980 – A Metalhead Remembers



On the 30th Anniversary of Donington, Hammer guest blogger Al King remembers the very first Monsters Of Rock festival!

It's 1980. The New Wave of British Heavy Metal has crashed over the nation and given 2nd life to a number of older bands. Im 15, metal obsessed and living in the East Midlands and who decides to come and play a new festival just down the road near Nottingham? Rainbow, Priest, Scorpions and Saxon, 4 of my favourite bands at the time, that's who. We shat. Tickets were bought. Logisitics were sorted. Parents with cars were appointed. My first festival experience awaited.

The festival was called Monsters of Rock which became known as Donington and more recently Download. Today it's 3 days of pacing and planning. Back then its was one day of heavy boozing and you saw every band. Pick a spot, defend it and stay there. Toilet facilities were poor; a big pit at the bottom of a hill formed full of piss & shit. Container rules were also non-existent; Angels crushed cans, sharpened their edges and threw them like Frisbees into the crowd. Nice.

The bands delivered though. The singer of Touch swallowed a wasp. Riot played a blinder. April Wine did a great drum solo and went into 'Satisfaction' & 'Day Tripper' at the end of 'I Like to Rock'. A jet took off as Saxon played '747 Strangers in the Night' (the site is right next to E Mids airport) and we sang along to "bap-shoowap, bap-shoowap". Afterwards they wrote and recorded 'And The Bands Played On' as a tribute. The Scorpions formed their human pyramid and belted out the hits. Priest chugged like Metal Gods showcasing 'British Steel' material and Rob rode onto the stage on his Harley during 'Hell Bent for Leather'.

But the day belonged to a certain Mr Blackmore & co. They waited for night to fall and it was worth it. The build up to 'Eyes of the World' could be heard coming over the PA, the band still not on stage. Its based on Mars, The Bringer of War, and builds to the start of the track proper when the band come in. Cozy Powell hit the cymbal 4 times to cue the band and "BANG!", the loudest and brightest on stage explosion I've ever seen. People actually recoiled from the stage and I remember a green blur across my vision for several minutes afterwards, so bright was the magnesium white flash.

Big hits 'All Night Long' and 'Since You've Been Gone' were obviously played, but it was other classic album tracks esp. 'Stargazer' (Bonner got the words wrong) that stood out for the hardcore fan. There was a huge fireworks display afterwards which we'd never seen before (common place these days) and it took forever to get out. A mate's dad picked us up. We were so hungry and thirsty having drank & eaten everything and run out of money. I remember stopping at the 1st services and piling in. He picked up the tab and we drank more Coke and ate more crisps than would seem humanly possible. I still have the t-shirt and programme, and the souvenir vinyl album that was released shortly afterwards.

Terry Bezer, Metal Hammer - June 10, 2010










Monsters of Rock - Castle Donington

History Of Festivals 10: Castle Donington 1980



A motor-racing track in Leicestershire might not be the most inspiring venue in the world, but it played host to anyone who is anyone in hard rock and metal for a decade and a half. It is, of course, Castle Donington Raceway and the event is the Monsters Of Rock festival.

In 1980, the one-day event immediately established itself as a metal challenger to the Reading festival by booking Rainbow, Judas Priest, Scorpions and Saxon. Completing the seven band line-up were April Wine (from Canada - who I saw at Newcastle City Hall in all their cheesy spandex glory touring the Harder...Faster album) and Riot and Touch (both from New York city). Neal Kay, champion of the burgeoning New Wave Of British Heavy Metal movement, was the DJ.

Official attendance was given as being around 35,000. It had rained in the days leading up to the event but the 16 August itself wasn't bad at all. The event was promoted by Paul Loadsby – who had also been promoting Rainbow's tour that summer – and was pretty well organised. And you could take your own drink in. That's the spirit. There was even one of them new fangled video screens.

Space age giant tellies aside, there were some technical difficulties in the warm up that would not have shamed a Spinal Tap outtake, when the PA system was damaged during tests for Cozy Powell's pyrotechnics. The legendary drummer had good reason to want to go out with a bang: this was to be his last gig with Rainbow as he had grown disillusioned with the direction Ritchie Blackmore was taking the band. But more of them in a minute. How brilliant, though: to knacker the PA because you were playing with fireworks. It has been claimed that the explosion could be heard three miles away. Just a surprise that there wasn't a freak gardening accident.

It wasn't the only weird mishap at the event: the bassist of second-on-the bill Riot – who were the pet project of Neal Kay – had the misfortune to swallow a BEE while on stage. Not in the Ozzy Osbourne manner, biting its head off, though: the buzzing chum just flew into his gob mid-song.

After the two American acts, it was into the meat and drink of the event: The New Wave Of British Heavy Metal. Saxon were the first band with a real following, as a result of their recent success with Wheels Of Steel and 747 (Strangers In The Night). Always wondered if that record freaked out any misdirected Sinatra fans. Barnsley's finest were in good form and got the crowd going nicely. This was a band on the up – the next years saw them release Denim And Leather, arguably the classic NWOBHM record.

April Wine played next, the highlight being their I Like To Rock – which is featured on the excellent live album of the event 'Castle Donington 1980 – Monsters Of Rock'. It's got two tracks from Rainbow and Scorpions and one each from the other bands, with the exception of Judas Priest who were bringing out a live album of their show and didn't want to steal their own thunder. Worth remembering that Priest were probably at their peak of popularity at this time and we still didn't know Rob was gay!

After Canada came Germany. The younger generation might think of Scorpions first and foremost as the purveyors of earnest Berlin Wall ballad Wind Of Change. But in the days before they learned how to whistle, the hard rockers from Hamburg could play a stonking live set – notably on Another Piece Of Meat.

The real big guns came out, though, when Judas Priest came on. Rob Halford took to the stage on a massive Harley, and the crowd were ready to go. Funnily enough, he did the same thing at Donington this year when the Priest played at Donington's Download Festival. Doesn't quite have the same ring as Monsters Of Rock, does it?

Anyway, the Judas Priest set was a stormer. They had been around for a while by then, but were right back in the forefront of the British scene thanks to 1980's British Steel and the crowd were well up for it. They opened up with The Ripper and played a belting take on Living After Midnight – check out the live album of their performance.

Headliners Rainbow were brilliant. The energy and connection with the crowd in All Night Long is just great, as was the unlikely and brilliant cover of Carole King's Will You Still Love Me Tomorrow. The guitar work on Kill The King is stunning, just before Ritchie trashed his guitar and blew up a Marshall stack (although he's smart enough to change his Fender Strat for what looked like some sort of dodgy stunt guitar with a very short life expectancy).

Singer Graham Bonnet was wearing a pair of tight red trousers, a pink shirt and a sort of white boating blazer. Particularly next to Blackmore (all hair and rock God black blousy thing) he looked like he'd wandered in off the set of Miami Vice. No wonder this was also his last gig with Rainbow although, unlike Cozy, he didn't know it at the time. Cozy's drum solo was totally balls out, and the version of Stargazer was terrific as well. Rainbow, much like Purps gigs usually revolved around how hot Blackmore was; here he was on rip-snorting form; the sort of radical guitar noise and humongous riffs that were his unique gift to rock n roll dripping from his fingers.

The event was a big gamble by the promoters – to have a purely metal line-up – and was a defining moment in the NWOBHM movement. Although not a financial success in itself, it paved the way for the Monsters Of Rock festivals for nearly two decades and proved that metal could carry a festival on its own terms. Still no news on that poor bee though.

John - The Boss, Blog - September 14, 2008