Hello dear clanners and congratulations

This is it, the first fanzine by the Rainbow Fan-clan. Indeed Congratulations. We mean you are the first members. We'll try to do our best to make the most out of it in the future.





PANIC WITH THE DUTCH AND GERMAN FANS



In various music magazines was a Rainbow concert on the 10th of November announced. As sudden as this date showed up, it also disappeared. The same story goes for the 7 November concert in Munster (Germany). The English management didn't give an official statement. Promotors spoke of "internal problems", which turn out not to make any sense. More likely it all was due to the success of the US Tour, which was extended. If we receive an official statement then we'll publish it in the next fanzine. By the way, check the concert dates in the music magazines. Whitesnake and Gillan will be both on the European continent soon.





RECORD-TALK





THE RISING RAINBOW IS DOWN TO EARTH
RAINBOW: "DOWN TO EARTH"



When we heard that the cooperation between Ronnie Dido and Ritchie Blackmore was over we had to think back to June 1973, when Ian Gillan left Deep Purple. Every Purple fan was worried about who could replace Ian Gillan. Blackmore & Co surprised everyone (positively) with the total unknown David Coverdale and now is one of the best rock-singers in England.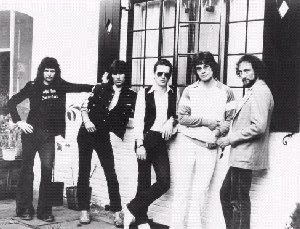 The same situation now with Rainbow, only five years later. And again Ritchie Blackmore who has to come up with a solution. After many times listening to the new record, we only can say one thing: Ritchie did it again!

With Graham Bonnet Rainbow has found a pretty unknown (just like Coverdale), but powerfull singer, who fits in excellent in Blackmore's concept. On his solo-records (see elsewhere this magazine) his talent was too clear, but now we know it just is.

Again new names stepped in on the keyboards and bass positions. Don Airy (more about him also in the mag) on keyboards and ex-Purple bass player (1969-1973) Roger Glover. After Roger left Deep Purple he produced many records (including Roy Gallagher, Status Quo and Nazareth) and he knows his way around this profession. You can hear that on this record he produced. "Down to earth" is without doubt the best produced Rainbow record. The straight sound of "Long live rock'mn'roll" has now changed into a wide sound, where you can hear all the instruments clearly. Well done Glover!!!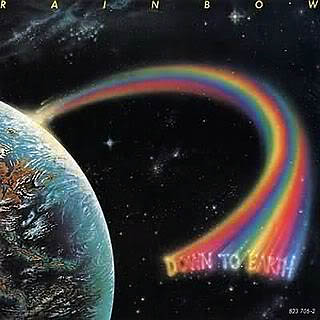 And now about the music. Ritchie wrote together with Roger seven (including one song with Cozy) of the eight songs. The last song is the single "Since you been gone", written by Russ Ballard which you can find on his second solo album "Winning (on Epic).

Rainbow's version is similar to the one of Head East on their debut album (on A&M). You can also find this songs on their just released "Head East Live" double album. So not too original, this single. Just as a single it's a good song, between the other songs of the album it's a bit strange. Pity!

But the other seven songs make up for that, perhaps with exception of "No time to lose" which sounds a bit too much like Purple. "Makin' love" has a beautiful intro and a powerfull piece in the middle. "All night long" has great tempo changes and Bonnet reaches all tones (and doesn't even sound like Iwan Rebroff). "Love's no friend" should be fitting in between Whitesnake songs, while "Danger zone" en "Lost in Hollywood" (brilliant middle piece again) are direct knock-outs.

Leaves us to the song that includes all the Rainbow ingredients "Eyes of the world": starting synthesizer work, tempo breaks and driven rhythm-play by Glover and Powell. All this makes our shrine shivering (a good sign as that don't happen that often). This song shows many promises for Rainbow live. "Down to earth" is a record with short, powerfull songs, that will be a good base for the new live show. One thing we miss is a song like "Catch the rainbow".

We think that this album is one with a lot of amusement in it. This record swings from start to finish. Ritchie saves the rest points for the concerts. "Down to earth" is a real hard-rock-album, not super special but still interesting.






WHITESNAKE "LOVEHUNTER"
United Artists UAG 30264 (english cataloguenumber)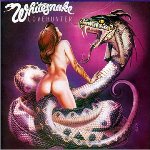 A similarity between Whitesnake and Rainbow is that both groups change very often their members. Take for example this Whitesnake album. Months before it's release it's already known that drummer Dave Dowle (who still plays on this record) is replaced by Ian Paice and this brings the total of Purple-people to three in this group.

In tracks like "Walking in the shadow of the blues", "Medicine man", "You'n'me", "Mean business" and the titlesong (with some fine slide-guitar by M. Moody) you still can find the spirit of the "Burn"/"Stormbringer" time. If you enjoyed the records Coverdale made with Purple you'll like "Lovehunter".

Wim en Hans





GILLAN BACK TO THE ROCK
GILLAN: "MR. UNIVERSE"
Acrobat 660.053 (CNR-Weesp)



The line-up is the same as in the article about Gillan Live in London. This line-up appears on nine of the ten tracks. Six tracks are written by Gillan and Colin Towns, the only members who also were in the "Scarabus"-group. Colin wrote three songs on his own, while "Puget Sound" is written by the whole band. "Second sight", only Colin on keyboards, opens the record. Live concerts also start with this piece. Then the whole group starts and you're in "Secret of the dance", this one has a tempo that brings memories back to "Kill the king".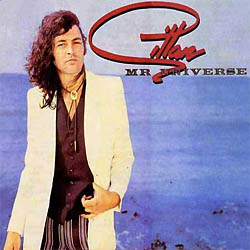 "She tears me down" is a little bit more slow, while "Roller" gets pretty close to the old Deep Purple-sound. "Vengeance", the single, is not that strong. "Puget sound" is the only song on the album that's "poor". The lyrics sound childish. "Dead of night" is very strong (great bass). "Message in a bottle" doesn't have anything to do with the Police. Micky Underwood sounds great on the drums.

Leaves us with the two longest songs, the titlesong and "Fighting man" (over 7 minutes). "Mr. Universe" opens with Colin on keyboards, Bernie steals the show on guitar. He doesn't write much of the songs but plays his guitar very well. He and Underwood don't play on "Fighting man", that ends this record. This song is recorded with the line-up (Steve Byrd-guitar and Liam Genocky-drums), that only stayed together shortly after the "Scarabus"-LP and only made the only in Japan released album "GILLAN". It's a great song, starts quietly, then a fast mid piece to end again quietly.

On this record there's a constant battle of guitar and keyboards. One thing is obvious though: Ian Gillan is after 6 years back where he belongs: as singer in a group that makes music that suites his voice best: ROCK!!!

Gerrit





FRESH SURPRISE
COZY POWELL: "OVER THE TOP"
ARIOLA ARL 5038 (english cataloguenumber)



Already in May this year we received the news that there was a solo-album of Cozy Powell (drummer with Rainbow since October 1975) on the way. 27 October was the release date. The working title "Many sides of a racing car" has been changed in "Over the top", but racing is a passion of Cozy: on the cover we'll see him jumping with his cross-motor over his drumkit (how is he gonna do that at a live-concert?).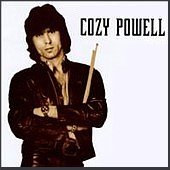 Cozy asked a couple of interesting friends to join him. There's Jack Bruce ex-Cream) who's still can handle the bass well. We hear two ex-Colosseum II members. Guitarplayer Gary Moore and keyboardplayer Don Airey (in 1974 with Powell in Hammer and now with Rainbow). Bernie Marsden (Whitesnake) and Dave 'Clem' Clempson (replaced Peter Frampton in Humble Pie, was turned down in 1975 to replace Blackmore in Deep Purple and was with Powell in Strange Brew) are playing both in two songs. Max Middleton plays keyboards on two tracks, which he wrote himself as well, "Sweet Poison" and "The Loner". Max was a member together with Cozy in 1972 in the Jeff Beck Group. We could expect a record full of quality. And that's also what we got. Altho people who only like simple hardrock, will not be too pleased. Many different music styles which brings another line-up for each song.

First a warning: don't go back to your recordshop straight away after reading on the cover "lyrics enclosed" and there's no lyrics sheet with your record. It's a nice joke as the whole album is instrumental. And the record is done 'without the aid of a safety net'.

"Theme one", the single, opens the record. We hear Powell-Bruce-Airey-Marsden in an old George Martin (ex-Battles-producer). This is a steady sdrummingh druming like on "Dance with the devil". We even hear a short part of "White room", an old hit of The Cream, the band Bruce played bass in.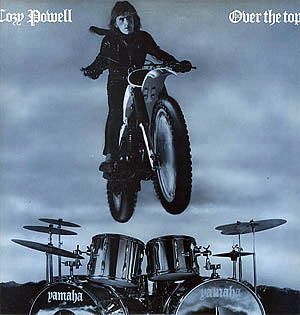 Marsden makes room for Moore in "Killer", this has a fast start, but goes over into a blues. Great guitar and synthesizers. Bruce-Powell-Airey plays "Heidi goes to town"(?), a bit classical sounding what could be a hit on a single releSaid. "El Sid" is the last song on side one. Not that good as the other songs. You can hear Powell-Bruce-Marsden-Airey again. Side two has a total different atmosphere.

Max Middleton opens with a piano in "Sweet Poison" and get accompanied by Powell-Airey-Bruce-Marsden. It's jyachtingck-achtig en swings well. The slow "The Loner" is dedicated to Jeff Beck. Clempson plays in Beck's style. The last sontitle trackitletrack of the record.

It's two pieces, in the first piece we hear Bruce-Powell-Airey in a nice piece of music, that suddenly ends, and then Cozy stdrum solo drumsolo, just like we know it from Rainbow concerts (was Cozy still angry becdrum solo drumsolo was cut out of "Still I'm sad" on "On Stage"?).

It's obvious we hear the double-bass, which says all about Cozy's stof course ofcourse we get the classical piece of music that is pardrum solo drumsolo: the "1812 Overture" by Tchaikovsky. Very nice, but not as impressive on the record as you catch this live. You must be a fan of drumsolos otherwise this could be a bit boring.

Anyway: Cozy has made made a surprising, fresh records with various styles, produced by Martin Birch, who also did many Purple and Rainbow-products. It's a record full of great guitar- and keyboardsolos. Maybe you have to play it a few times before you really like it. This is certainly not a unnecessary record, that's this "Over the top".

Gerrit





RECORDTALK

GRAHAM BONNET - "NO BAD HABITS"
- Mercury 6304 504


This second solo-album by Graham Bonnet is, just like the first one, release by Phonogram.

Side 1: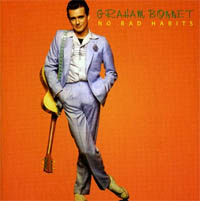 1. I'll be your baby tonight (Dylan)
2. Won't you join me (Kongos)
3. Is there a way to sing the blues (McRiner)
4. Can't complain (Otway)
5. Givin' up my worrying (Rossi-Frost)

Side 2:
1. Pyramid (Kongos)
2. Only you can life me (Kongos)
3. Stand still Stella (Williams)
4. High school angel (Bonet-Hutchins)
5. Cold lady (Williams)

This record is release in 1978 and produced by Pip Williams, who also did Bonnet's first LP. In the article on Graham also in this fanzine you can read more about his first LP.




RUSS BALLARD - "WINNING"

Epic EPC 69210 (CBS)


You probably will know Russ Ballard's name as composer of "Since you been gone". That song is on this second album by Russ. The music of Ballard is more or less slow and romantic. It's still available in the shop. It was released in 1976.





IAN GILLAN BAND
LIVE IN LONDON !!



On tuesday 10, wednesday 11 and thursday 12 July Ian Gillan debuted with his new group for his english audience in the Marquee Club on 90 Wardour Street, London W1, about five minutes walking distance from Piccadilly Circus, where my hotel was (Regent Palace). The Marquee is a pretty small club, which can have an audience of about 500 people. It was packed that first night.

From the I.G.B., who made the "Scarabus" album, only Colin Towns, keyboards and flute, and Ian himself are still in the group. After that album another (unknown to me) line-up did an album which is only released in Japan titled "Gillan". Later they decided to release this not elsewhere in the world. There's also an live-LP "Live in Budokan" that's also only released in Japan.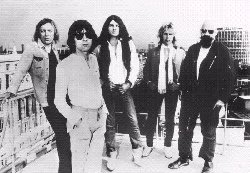 The new group is, except Colin and Ian, John McCoy, a bald bassplayer with big moustache, Bernie Torme, a wild guitarplayer and Mick Underwood, the drummer who played ten years ago together with Roger Glover and Ian Gillan in Episode Six. The three concerts were almost identical. Most of the songs were from the Japanese "Gillan" LP and the new album "Mr. Universe", songs I didn't know then. "Vengeance" (the UK single) and "Mr. Universe" were pretty strong.

The group played with enthusiasm and anyone who likes Ian Gillan about the way he sang with Purple, will like him these days again. The jazz-rock-element, that was present at the last I.G.B. albums is totally gone and is replaced by solid hard-rock. Ian sings like before. The last song was all nights "Smoke on the water", the only Purple song they did. Guitarplayer Torme started the song with a great intro, like Blackmore can do it. The solo in the middle was different tho. The encore is still the same: the old Little Richard-song "Lucille", it was in 1969 en 1970 also the encore of Deep Purple. Ian played guitar in the songs and did it very nicely.

Conclusion: the new Ian Gillan Band plays again good old hard-rock. Nothing new, but very enjoyable. On the last night I met ex-Rainbow-bassplayer Bob Daisley. In the next article you can read what Bob told me.

Gerrit





Ronnie Dio - New Group ??



Many Rainbow-fans will be curious what's going to happen with Ronnie Dio, now he's no longer part of Rainbow. Ex-Rainbow-bassplayer Bob Daisley, who I met after the third Ian Gillan-concert in the Marquee, told me all about it.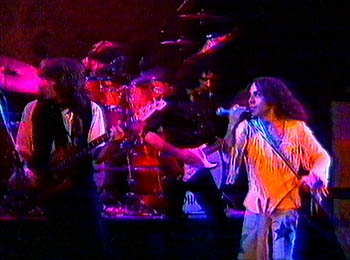 On my question what he was up to, now Roger Glover took his place over in Rainbow, Bob answered that he was together with Ronnie Dio forming a new group. There was not yet a name for the band and they were also still looking for a guitarplayer. Apart from Bob on bass and Ronnie on vocals, they'll have Mark Nauseef and Mickey Lee Soule, two names who shouldn't sound unfamiliar.

Mark Nauseef is the new drummer. Not that long ago he was in the Ian Gillan Band and plays on the albums "Child in time", "Clear air turbulence" en "Scarabus". Mark also played on Jon Lord's latest solo-LP "Sarabande".

Mickey Lee Soule played together with Ronnie six years long in ELF, untill the moment that Ritchie Blackmore took over the whole band except for ELF-guitarplayer Steve Edwards. That was the start of the first Rainbow line-up and you can hear Mickey Lee playing the keyboards on the first Rainbow-LP.

Mickey also sang a song on the "Butterfly Ball" album with Roger Glover (with the hit "Love is all") and played all keyboards on Glover's last year released solo-LP "Elements".

On my question to Bob Daisley how about the rumours of Ronnie joining Black Sabbath, he told me that Ronnie just was a stand-in, because that group have to release a new album before the end of the year. Otherwise they'll have problems with the contract of their record company. Ronnie is asked to sing on that album and he liked the idea. But if Sabbath finds another singer soon, this album with Ronnie won't get released. This interview with Bob was on 12 July and in the mean time it's a few months later. Wether they found a guitarplayer, or they're already secretly are practising with this new band, or the whole thing is blown off, or maybe we have world scoopop with this news..... Time will tell.

Gerrit





T.V. SPECIAL
DEEP PURPLE IN ROCK



The overview of 8 years Deep Purple started at the end. Deep Purple Live in Budokan Dec. 1975, the concert you also can hear on the LP "Last concert in Japan". We got "Burn" en "Love child". Coverdale sang ike crazy and Ian Paice was hitting his kit that hard that our t.v.-set almost collapsed. Jon Lord swinged behind his organ and Glen Hughes made his bass sound like thunder. Tommy Bolin, who replace guitargod Ritchie Blackmore, played with an injured hand and you could hear that.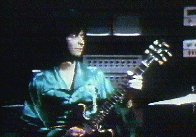 Then we got a historical Purple-recording from 1968. Rod Evans (vocals) and Nick Simper (bas) appeared with the group with "Hush", played live in a t.v.-studio, while the public was swinging away. Nice to see this as the band only existed about a half year then. Then we got a excerpt of the "Concerto for group and orchestra" from 1969. Five long haired musicians together with a lot a nicely in suites classical players.

In the next take we saw Ian Gillan in action: "Black Night" live in a t.v.-studio. Then we jumped to 1974: the gigantic California Jam Festival before a 400.000 crowd, Deep Purple was the headliner. We first got a part of "Smoke on the water", followed by "Blackmore in action" in a part of "Space truckin'", when Ritchie was going wild. Deep Purple was then at their peak of it all. This show was filmed for TV and you need cameras and camera people for this.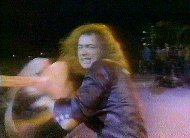 One of them was on stage. After Ritchie did a show with his guitar he walked with his strat to the camera and started smashing the guitar on it. Every hit on the camera the picture got lost. After that act we also saw him setting fire to the amps.

Then we got back to the Budokan with Tommy Bolin. First again a part of "Smoke on the water" followed by "You keep on moving" and "Highway star", the crowd went almost hysterical. David en Glenn shouted the audience once more crazy and then it was over. This concluded 45 minutes Deep Purple In Rock. We enjoyed it a lot and were glad our TV set survived it all.

Wim

At the California Jam you could see a huge rainbow behind the stage. Later Ritchie explained that this gave him the idea for the rainbow used at Rainbow concerts.





NEW ALBUM
WHITESNAKE - "LOVEHUNTER"



On 22 September English Musicpaper Melody Maker told the public about the release of the new Whitesnake album "Lovehunter" and the tour throughout the UK.

It looks like Whitesnake is on the way to conquer the UK. In the period between 11 October and 5 November they'll do 19 live concerts. So they only had 7 days off in between, and for those days there were lots of interviews planned.





INTERVIEW
TWO ENEMIES RE-UNITED!



When Deep Purple splitted up in 1976 singer David Coverdale (DC) and keyboardplayer Jon Lord (JL) started in POP (German popmagazine) a fierce battle in words: "He behaves childish. He only blamed the others. He's a great singer and can write interesting things, but he sits home and does nothing. Words by JL in a POP-interview in 1976.

DC went in the next issue in the counterattack: "If I met Jon again, he better can watch it. I can assure you that a new cooperation between me and Jon is out of the question. I never wanna have to do anything with Mr lord. NEVER!!! DC didn't keep his promise. He got JL in his new band in August 1978. Whitesnake is not a supergroup like Deep Purple, but they don't care. Why? Read on!

DC: "The biggest problem in Deep purple was that we knew how good we were. We destroyed ourselves in the end. the splitting up was terrible. It's amazing that they, who reached everything, had the motivation to start all over again."

DC: "Maybe it's because we were musically starving. When I got Jon again in the band, I convinced him to make music again after the big Star- and Party-trip. And nothing else than music."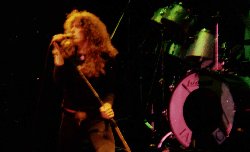 - What sort of audience is coming to see Whitesnake?

DC: "Many will show up out of pure curiosity. Now and them a few Blackmore-fans and Purple-fans will turn up. It doesn't matter why to show up, as long as it's not to go back into the past. We play "Mistreated", I wrote that myself, but for the rest we do not go into Purple. Not that we don't have respect for the public, on the contrary. After the show, we invite people to have a chat and drink a beer. Music means for me: contact with people. In Purple we hardly could talk to people. It was only: concert, hotel, limousine, airport - it's too crazy for words. When I started playing with this band, I finally found back the contact with people again. Now I also really enjoy answering letters of fans."

- Before he started with Whitesnake, DC lived in Munich with his girlfriend, where he tried to drank away his grief during the punk-explosion. He saw celebrities got replaced by people like Costello, Boomtown Rats en Ian Dury and David thinks that was a good case.

"These figures kicked me out of my lazy chair and showed me the way to the roots of rock'n'roll. In the old days the fans of Zeppelin, Rainbow or Purple could not think they ever could be on stage between that huge equipment. The new-wave musicians changed that, we have to be grate full about that. I'm more satisfied now when I can reach 20 people with my music then when I sold 2 million albums. Ofcourse I'm a liar when I'm saying I don't like to make money. But I know money destroyed many groups. Bands, in which one person earns a lot more than the others, are fast gone. I only can expect a 100% performance of the people in my band if I give them also 100%. We all get as much money - including Lord and myself. A lot of people will tell me that it's stupid but I'll prove they're wrong."

- And how is JL doing, who got allured from his giant villa in Goringen-Thames to start again the life of a hardworking musician. He admits the request of DC was on the right moment.

JL: "I started to go the smooth ways downways and was feeling really sorry for myself. I didn't have to work, I had earned enough money. On a certain moment I was too afraid to leave the house. Something convinced me I had to get back and take action. After 16 years and the Purple-trip, who got me to the highest, I had to get down and start all over again."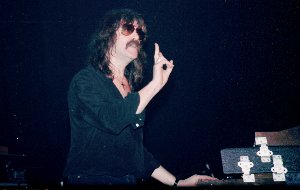 - JL is feeling already old (already 38!), but not without energy. He's sure that a lot of the hard-rock-groups have a right to exist.

"Punk gave us a few good groups, but there was also a lot of crap. But that's no news. I think these youngsters, wild and crazy, showed us how to act. A lot of us should become fat and lazy. Now we know again we have to put some dedication in the music."

- JL looks to the future with a lot of self-confidence.

"Our music was always good. the value in punk learned us, they never can tell us we're no good musicians with a good show. We can't rest on the past, we must put down a new performance to get a good assessment of the public. With this statement the Whitesnake-boys should be happy with each other for a while." Even if the stardom status like Purple stays away, because David and Jon are not keen on that situation again.

Source: POP, week 24-1979

Note: On the moment this interview was done (during the start of the Whitesnake tour in Germany early June), it was not known that also Ian Paice was going to join the band.





INTRODUCTION....
HELLO, THIS IS.....EH GRAHAM BONNET



Last May we got the press announcement: GRAHAM BONNET is the new singer in Rainbow! Graham Bonnet??? Never heard of, or... oh yes, he got in the tipparade with a old Bob Dylan song. We checked HITDOSSIER, and yes, it was right. That was half a year ago, and we still don't know that much about Bonnet. Still we got some more interesting information.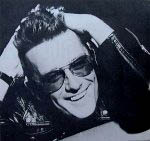 So it's Graham Bonnet. He's from Australia. We don't know his date of birth (yet). We hear the first time of him (for us Europeans at least) in 1968. With somebody else he's in the duo called THE MARBLES and gets discovered by three brothers, named Barry, Maurice en Robin (music experts know these three must be the Bee Gees). The Bee Gees, at that time already two years on the top, like the two blokes. As they have written loads of songs, who they don't release themselves, they take care of Bonnet and his colleague.

The first result is the single "ONLY ONE WOMAN", written and produced by the Bee Gees. The duo visits the United States and England, together with the Bee Gees, appears in many t.v. shows. "Only one woman" shows up on 21 Sept. 1968 in the Veronica Top 40, and gets quickly to their best result; a third place and stays no less than 17 weeks (that's 4 months!) in the top 40. THE MARBLES are a bigsuccesss.





The second single, also written by the Bee Gees, is "THE WALLS FELT DOWN" and again is a great success. This record gets into the top 40 on 29 March 1969, gets also to the third place, but is only nine weeks in the top 40. Five months later, 30 augustus 1969, the third, again written by the Bee Gees, single enters the top 40, "I CAN'T SEE NOBODY". This record has a lot less success, after three weeks with a best position on 28 it's already gone. The fourth single "BREAKING UP IS HARD TO DO", a Neil Sedaka song, gets on 25 April 1970 in the tipparade, but do not make it to the top 40. And then it's over with the duo The Marbles. We have to wait till 1977 before we pop into the name of Graham Bonnet again.



We don't know what Graham has done in these 7 years, but on 6 August 1977 his solo-single "IT'S ALL OVER NOW BABY BLUE" reaches the tipparade. The song doesn't get to the top 40. This is the Bob Dylan-song, we mentioned in the begin of this story.

There's also an album released, simply called "GRAHAM BONNET" on Mercury 919 133. The photo on the inlay we later find back as small pic on the inside cover of "Down to earth". It's a nice album, but certainly no hard-rock. An overview of this album:




side 1: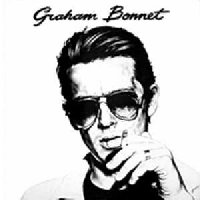 1. IT'S ALL OVER NOW BABY BLUE (Dylan)
2. WILL YOU LOVE ME TOMORROW (Goffin-Carole King)
3. TIRED OF BEING ALONE (Al Green)
4. WINO SONG (Graham Bonnet)
5. IT AIN'T EASY (Ron Davies)

side 2:
1. GOODNIGHT AND GOODMORNING (Hall-Oates)
2. DANNY (Fred Wise-Ben Weisman)
3. SUNDAY 16 (John Kongos)
4. ROCK ISLAND LINE (Huddie Ledbetter)
5. SOUL SEEKER (Pip Williams-Peter Hutchins)


This record, produced by Pip Williams, features many studio musicians. Many names, but hardly anyone we know. Except for one, Micky Moody, guitarplayer in Whitesnake. He plays guitar on all the songs and arranged "Rock Island Line". Still, the record is not successful.

One year later on Mercury 6304 504 a second solo album by Graham is released. Called "NO BAD HABITS". Again it's Bonnet on the cover. No lyrics this time enclosed. On this record, again produced by Pip Williams, we hear one more or less known name. It's Mick Underwood, the drummer. He played ten years ago with Ian Gillan and Roger Glover in Episode Six and plays since half a year ago again with Ian Gillan (also on the album "Mr. Universe"). This record also doesn't sell well and Graham gets back to Australia. Till Cozy Powell and Ritchie Blackmore play some old singles and offer him the job in Rainbow.





SMALL RECORD TALK





DEEP PURPLE "CHILD IN TIME" / "SMOKE ON THE WATER"

Purple Records 5C K 052 Z - 62702 (EMI)


First a 12-inch-single. That's a single on LP format. On the first side the original long performance of "Child In Time" from the "Deep Purple In Rock" album, this time in an excellent sound quality.

On the other side we find "Smoke On The Water" in the live-version of "Made In Japan", but edited and still longer than the live-version you could find on the original "Smoke" single from 1973. This version is 5 min. 12 sec.



DEEP PURPLE "BLACK NIGHT" / "STRANGE KIND OF WOMAN"

Harvest (12) HAR 5178


Another 12-inch-single of Deep Purple, but this one is only released in England.

You can hear the original single-versions of these songs. The frontcover is the same as the compilation album "The Deep Purple Singles A's and B's".





GILLAN "VENGEANCE" / "SMOKE ON THE WATER"

Acrobat BAT 12


On this moment we don't have this single, but a review in an English magazine we can tell the following: "Vengeance" is a fast song, heavy, very heavy. "Smoke on the water" is on the other side and will not be on the album "Mr. Universe".

The new GILLAN-version takes over 8 minutes. The intro is a long guitarsolo by Bernie Torme, and takes over three minutes.



RAINBOW "SINCE YOU BEEN GONE" / "BAD GIRLS"

Polydor 2095 111


The song "Since you been gone" everyone will know by now. Much more of interest is the second side, the Blackmore-Glover-composition "Bad Girls" (no, not the Donna Summer song). An excellent piece of music, unfortunately not on "Down to earth".

If you don't have this single already, buy it now, because singles are not that long available and this one is very interesting.



COZY POWELL "THEME ONE" / ?

Ariola ARO 189


On this moment we know this one is only released in England and we even don't know what's on the second side. "Theme One" is a track from Cozy's LP "Over The Top" and is a good instrumental song. The drums reminds to "Dance with the devil", Ian Birch wrote in Melody Maker: "Soundtrack for the x-degree, Toho Studio version of "Son of Star Wars" with, ofcourse, a drumbreak to remind you who's record it is. Ironic.

[B-side is "Over The Top". Ed.]




BERNIE TORME "ALL DAY AND ALL OF THE NIGHT" / ?

Parole Records 4


Solo-single by GILLAN's guitarplayer. We haven't heard this record (not yet released in our country and not likely either in the future as the label is not distributed overhere).

[B-side is "What's Next". Ed.]






WHITESNAKE "LONG WAY FROM HOME" / "TROUBLE" / "AIN'T NO LOVE"

United Artists BP 324


On this moment this maxi-single is only released in England. "Long way.." is a track from the "Lovehunter" album, it's a good up-tempo-track with a nice solo of Bernie Marsden.

"Trouble" is the titlesong of the last album: a ballad, that reminds me of Bad Company. "Ain't no love" is in a studio-version on the "Snakebite"-LP, but here you get a good live-version.





HITLIST



"Since you been gone" is Rainbow most successful single so far.

Netherlands:
TROS TOP 50: 3 weeks, best spot: 48
Nat. Hitparade: 1 week, on 47
Veronica: somewhere between 10 and 15 in the tiplist.

Not a big hit, but still the first success.

Abroad things went better. Good results in Germany. In England the single reached all top-ten-lists. On 20 Oct. the top-5 of Melody Maker was:

1 (3) VIDEO KILLED THE RADIO STAR......Buggles, Island
2 (1) MESSAGE IN A BOTTLE......Police, A&M
3 (4) DON'T STOP 'TIL YOU GET ENOUGH......Michael Jackson, Epic
4 (6) SINCE YOU BEEN GONE......Rainbow, Polydor
5 (2) DREAMING......Blondie, Chrysalis

This is the first time a Rainbow-single reached the english top 10.

"SINCE YOU BEEN GONE" didn't made it to the Billboard Top 100 in the States. The single had competition of a single of the same song done by Cherrie Currie (the blond ex-singer of the Runaways) together with her sister Marie (in the States released on Capitol 4754). This duo got to the bottom places in the top 100.

More success in the States for the album "DOWN TO EARTH". In England this album is in most of the album-charts for months between the positions 10 en 20, one week it goes up, the other week it goes down. It sells pretty well.

"Down to earth" reached on 31 augustus the American Billboard LP top 200. Then it went (probably because of the US Tour of the band) quickly up: 31-8 new on 110, then 100, 90, 89, 69 to get after six weeks to 67. That was 5 October. then the record start to get down. the latest results are: 26 October on 109, 2 November on 119.

The album got in Germany a top-20 position, while in Holland "Down to earth" reaches the first 30 (just like "On Stage" and "Long live rock'n'roll").





INTERVIEW WITH COZY POWELL
IT'S COSY WITH COZY



Some time ago had OOR magazine reporter Kees Baars an interview with Cozy. From this long interview you can read now some excerpts. Cozy was in the middle of the rehearsals for the American Rainbow-tour popped over from Los Angeles to Zandvoort to watch the Dutch Grand Prix Formula One Races.

About his solo-album: "The music is totally different than with Rainbow; a bit jazz, some rock'n'roll, a few classical things, a bit of everything, but especially things I can use my drumkit on." About "Dance with the devil": "With the money I earned with that track, I could do professional car racing for about one and a half year without a sponsor. During that period I only did some session work just to keep drumming, but I did it for a fixed amount of money without my name being mentioned. I have played the drums on hundreds of hit singles without somebody aware of it."

About his past: "I left school in 1960 and got a job for a few months till I had enough money to buy a drumkit and then left for Germany." He played there in various bands. After four years he went back to England. Because his name was known by then to various people he could start working right away as session musician. He played in various bands but without great success until he met Jeff Beck. "From '70 to '72 I was a member of the Jeff Beck Group and we did the LPs "Rough and ready" and "Jeff Beck Group", which I still think are very good. For the rest I did a lot of studiowork and I was in a band called Bedlam. With that band I went on tour, also in Holland. I can remember the concert in Paradiso, Amsterdam pretty well."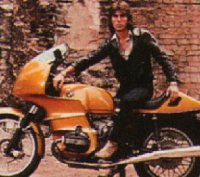 About the cooperation with Ritchie: "The cooperation between him and myself is very good, I don't think he's a difficult person to work with, on the contrary, I understand him very well and that's vice versa. The problems were all with the others. One thought he was going to a star, which was not the case. Another one didn't turn up for rehearsals and even concerts, and another one was just not good enough to develop himself any further, or was thinking he had made it and didn't do anything to help Rainbow gettin' better.

Ofcourse Ritchie and I are very demanding, but that's necessary if you want to get the best out of it. Especially Ritchie gets easy frustrated if something isn't right and reacts to it. That's why he left Deep Purple, others perhaps would have stayed because of the money or the great life and didn't care about the artistic standstill and all the differences in opinions. When Deep Purple some time after Coverdale and Hughes joined it was not what Ritchie think the band should be, so he left to start his own band. And he's prepared to work very hard for that."

Just like us Baars was also surprised that Ronnie Dio was no longer in the group. Cozy: "I can imagine that, but it's Ronnie himself who is to blame for that, because we thought he was not really interested that well and didn't give everything any longer to develop the band further. So we started talking to him and we found out he had different musical ideas, of which he know he was at the wrong address with for both me and Ritchie. We overlooked the situation for a while and then it became obvious that our ideas were too far gone from each other. Then he left and turned up with Black Sabbath, but it looks like that is also over already."





© Rainbow Fanclan 1979-1984